Vapor Intrusion Mitigation in Omaha, Sioux City, Lincoln, & Nearby
How to remove hazardous vapor from your soil & home
Common volatile organic compounds (VOCs):
Carbon tetrachloride
Tetrachloroethene (PCE)
Trichloroethene (TCE)
Methylene chloride
Gasoline derivatives such as benzene
Are hazardous volatile organic compounds (VOCs) in the soils beneath your home or building? Pollutants in contaminated soils or groundwater migrate into the property when VOCs have high vapor pressure and low water solubility – this process is also known as vapor intrusion.
If VOCs migrate from surface soils into surrounding buildings, this can negatively impact the indoor air quality and cause health issues. In many states, vapor intrusion can even represent a significant liability risk for building owners.
If you're concerned about vapor intrusion, Radon Defense Midwest can help. Contact us today to learn more about how we can provide you with quality vapor intrusion testing and mitigation. We offer free estimates throughout Nebraska, Missouri, and Iowa in Omaha, Lincoln, Sioux City, and nearby.
How do VOCs enter the home?
Unlike home radon, which occurs naturally, VOCs are manmade and are used to manufacture fuels, paints, medication, and refrigerants. VOCs are also present in industrial solvents, paint thinners, cleaning fluids like tetrachloroethene (TCE), oxygenates, and chlorination in water treatment systems.
VOCs enter the soil during accidents or industrial activities. Once the soil is contaminated and homes or buildings are constructed on top, there is a risk of hazardous vapor intrusion.
Negative effects of VOCs:
Irritated eyes, nose, & throat
Issues breathing
Nausea
Damage to the central nervous system
Damage to organs
Cancer
Our vapor intrusion mitigation solutions
Since vapor intrusion is caused by contaminated soil, the Environmental Protection Agency (EPA) has done extensive research into how property owners can protect their homes and buildings. One of their recommendations is to install a radon mitigation system, which can also remove soil vapors from below the foundation before they enter the home.
That is why Radon Defense Midwest provides several vapor intrusion mitigation options that address all kinds of contamination and foundation types:
Sub-Slab Depressurization (SSD): SSD is considered the most practical vapor intrusion mitigation strategy for existing and new structures. The system draws air from beneath the slab using a fan-powered vent to create lower sub-slab pressure relative to indoor air pressure. So even if there are cracks, gaps, and holes between the building and the subsurface, vapors flow downward – which is why a well-designed depressurization system will prevent toxic vapors from intruding into living spaces.
Sump Pit Depressurization System (SPD): If your property has a high water table in the ground, then an SPD is a good option. An SPD is when a sump pump cock acts as suction. Then a PVC pipe runs to a fan, which applies a vacuum to the sump pump pit, collecting and discharging vapor outside.
Sub-membrane depressurization systems: A sub-membrane depressurization system is similar to a sub-slab unit, but they are for homes and buildings with crawl spaces where there is no slab or a partial slab. A vapor barrier or membrane is placed on the floor or directly on the soil, acting as an impermeable layer against gasses. One or more suction pits go beneath the membrane where, like sub-slab systems, they create negative pressure under the property so that vapors do not rise into living spaces.
Pressure field extension testing: A soil communication test, or PFE test, is a diagnostic analysis used in radon and soil vapor extraction by using a micro manometer and several pilot holes in the slab to determine how easily air can move under the foundation. The test is also conducted again after installation to check the effectiveness of the system.
We can also install vapor pins for diagnostics and annual maintenance. The vapor pin is a reusable sub-slab soil gas sampling device constructed of a single piece of metal. It has a single-piece design, along with the silicon sleeve eliminates potential leak points. It provides a sealable measurement point for the annual maintenance of the system.
Sub-slab & crawl space membrane depressurization systems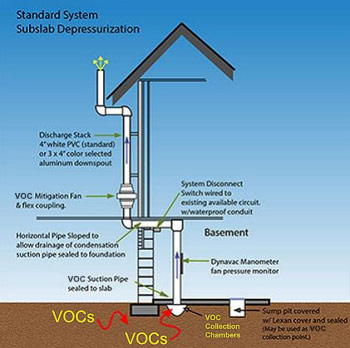 Get complete vapor intrusion mitigation in your home
Radon Defense Midwest is proud to be a member of the international National Radon Defense network, which has worked with environmental engineering firms all over North America in installing vapor intrusion mitigation Systems. We understand the importance of sealing, depressurizing, and communicating all the entry points of the vapor intrusion.
For an environmental cleanup project of this nature, we understand you need a company with the experience to get the job done right. We are your trusted local experts for soil vapor extraction and indoor air quality services, so call us today to get started! We offer free estimates in Omaha, Lincoln, Sioux City, Council Bluffs, Bellevue, Elkhorn, North Platte, Gretna, Fremont, Hastings, and throughout the surrounding areas.
Looking for a price? Get a no cost, no obligation free estimate.