Explaining home radon levels in Greater Omaha
Radon testing is the only way to detect this cancer-causing gas
Since home radon is odorless and invisible, testing is the only reliable way to detect this cancer-causing gas.
Since radon is one of the second-leading causes of lung cancer, identifying it inside the home is important. But as an odorless, invisible gas, detecting radon without reliable testing is impossible. A radon mitigation professional can also help you determine what levels are a cause for concern.
According to the Environmental Protection Agency (EPA), 4.0 pCi/L is considered the "action level." However, The World Health Organization (WHO) has determined that radon can be dangerous in any concentration.
To see what the radon levels mean for your home, contact Radon Defense Midwest today. We provide reliable radon testing services and free mitigation estimates throughout Nebraska, Missouri, and Iowa, including Lincoln, Omaha, Sioux City, and areas nearby.
Home radon can be a problem anywhere
This video shows how radon enters the home through the stack effect.
No matter where you live or how old your home is, radon can be a problem - this is a result of the stack effect and air building up inside the house:
As warm air rises and exits the home, it is replaced with outside air.
Radon enters the home through the stack effect - this occurs when inside air interacts with outside air. The lower pressure of inside air creates a vacuum that sucks radon into the house.
Once the air is inside, it becomes trapped and builds up - this becomes much worse in cooler winter months when windows are closed.
There is no way to tell how much radon is inside a home without frequent checkups and radon testing.
Radon levels & what they mean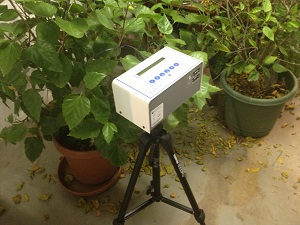 Monitoring radon levels is a key step for ensuring your home is protected.
Radon Defense Midwest wants to do everything possible to get home radon levels as low as possible. Here are some factors to consider if radon has been detected in your home:
The radiation in 4.0 pCi/L of radon is equal to that of 100 chest x-rays. Most hospitals only allow people to have four chest x-rays each year. That's .16 pCi/L per x-ray and .64 pCi/L a year.
The EPA estimates .4 pCi/L as the national average for outdoor air and 1.5 pCi/L for indoor air.
1 pCi/L is equal to 2.5 cigarettes a day.
Both the EPA and WHO agree that prolonged exposure to low and medium levels of home radon has proven to be more hazardous than short term exposure to high levels.
Home radon is the second-leading cause of lung cancer in the U.S.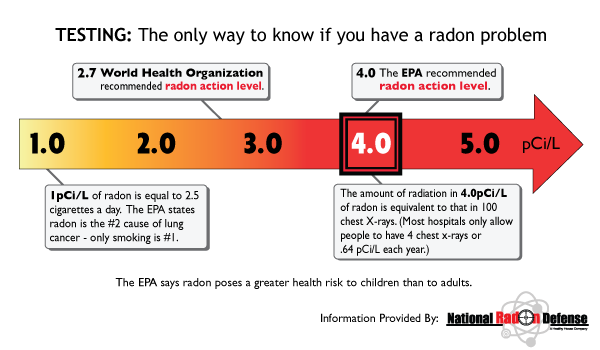 Schedule radon testing & a free mitigation estimate today
Want to protect your family from home radon? Radon Defense Midwest offers reliable radon testing and will help you understand the levels of radon inside your home. If high levels are detected, we can provide a free radon mitigation estimate.
We proudly serve Nebraska, Missouri, and Iowa areas throughout Bellevue, Council Bluffs, North Platte, Elkhorn, Fremont, Hastings, Gretna, and nearby. Schedule radon testing and a free mitigation estimate to learn more.
Looking for a price? Get a no cost, no obligation free estimate.