Revolutionary Air Purification System: The Aspen Air Purifier
Do you struggle with allergies? Combat your symptoms with the Aspen Air Purifier!
The Most Effective Air Purifier in the Industry
The air in your home can contain pollutants that cause allergies, asthma, and an increased risk of long-term illness. The Aspen Air Purifier is a professional-grade air purifier that removes pollutants 10,000 times smaller than a human hair. It is a valuable pillar of National Radon Defense's (NRD) system of indoor air quality services, easily battling against allergens, smoke, pet dander, mold, viruses, and more.
Features & Benefits of the Aspen Air Purifier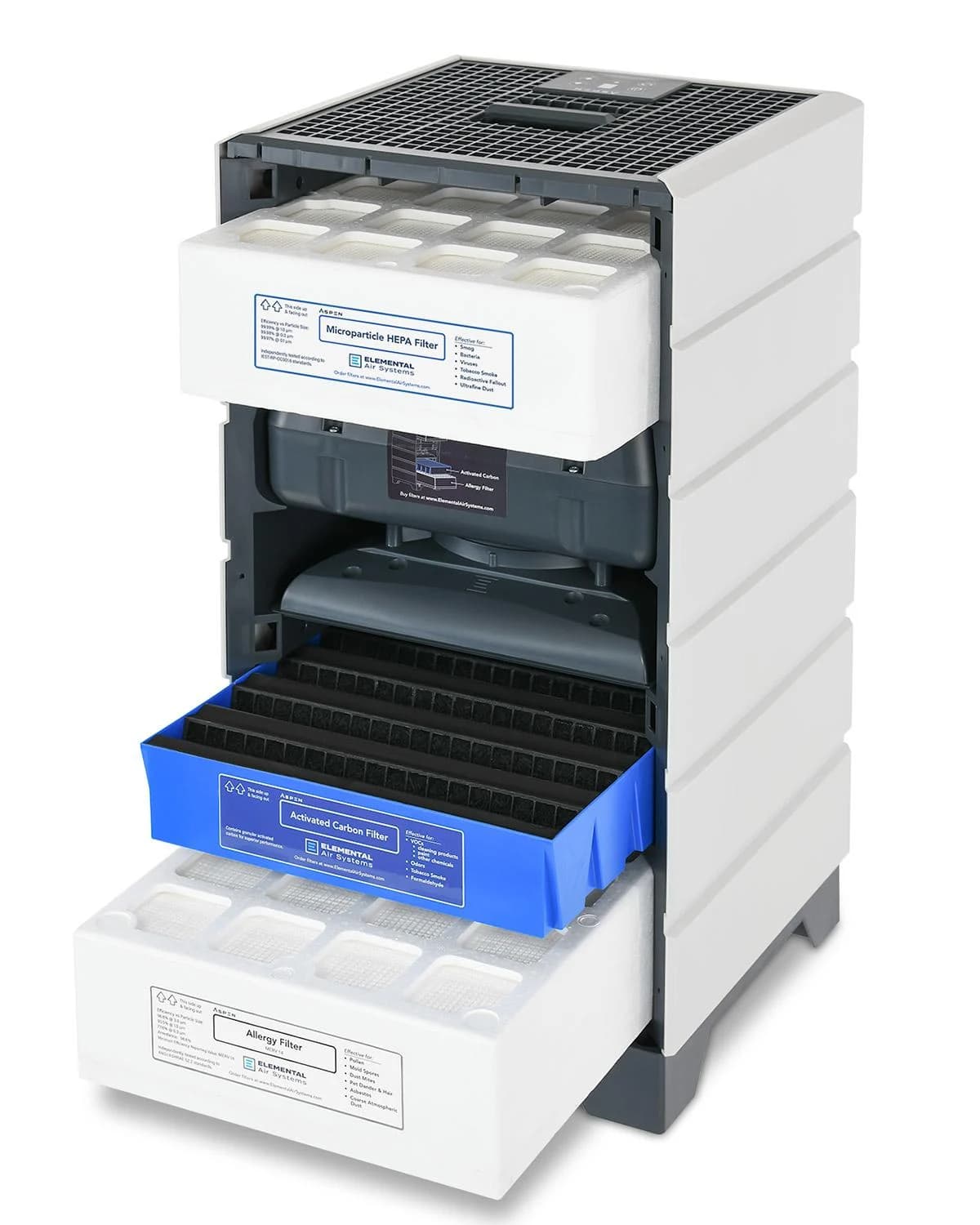 Aspen is the ultimate indoor air quality solution for the absolute cleanest, healthiest air in your home.
Professional-grade, covers 1,500 square feet
3-stage filtration process for maximum air purification
Removes over 99.97% of particles down to 0.1 microns
Uses 85% less electricity than the typical AC fan
Reduces allergies, asthma, and risk of long-term illness
Uses 100% safe purification methods
Assembled in the USA
10-year warranty with filter subscription
2-year standard warranty
Learn more about the industry-leading Aspen Air Purifier with Larry Janesky. He'll dive into the creation of this incredible machine and the many benefits of this unique system.
See More Aspen Videos
If you're in need of a reliable, high-quality air purification system, we can help. Call us today to schedule a free, no-obligation estimate on installation of the Aspen Air Purifier. You deserve to have clean air in your home all the time!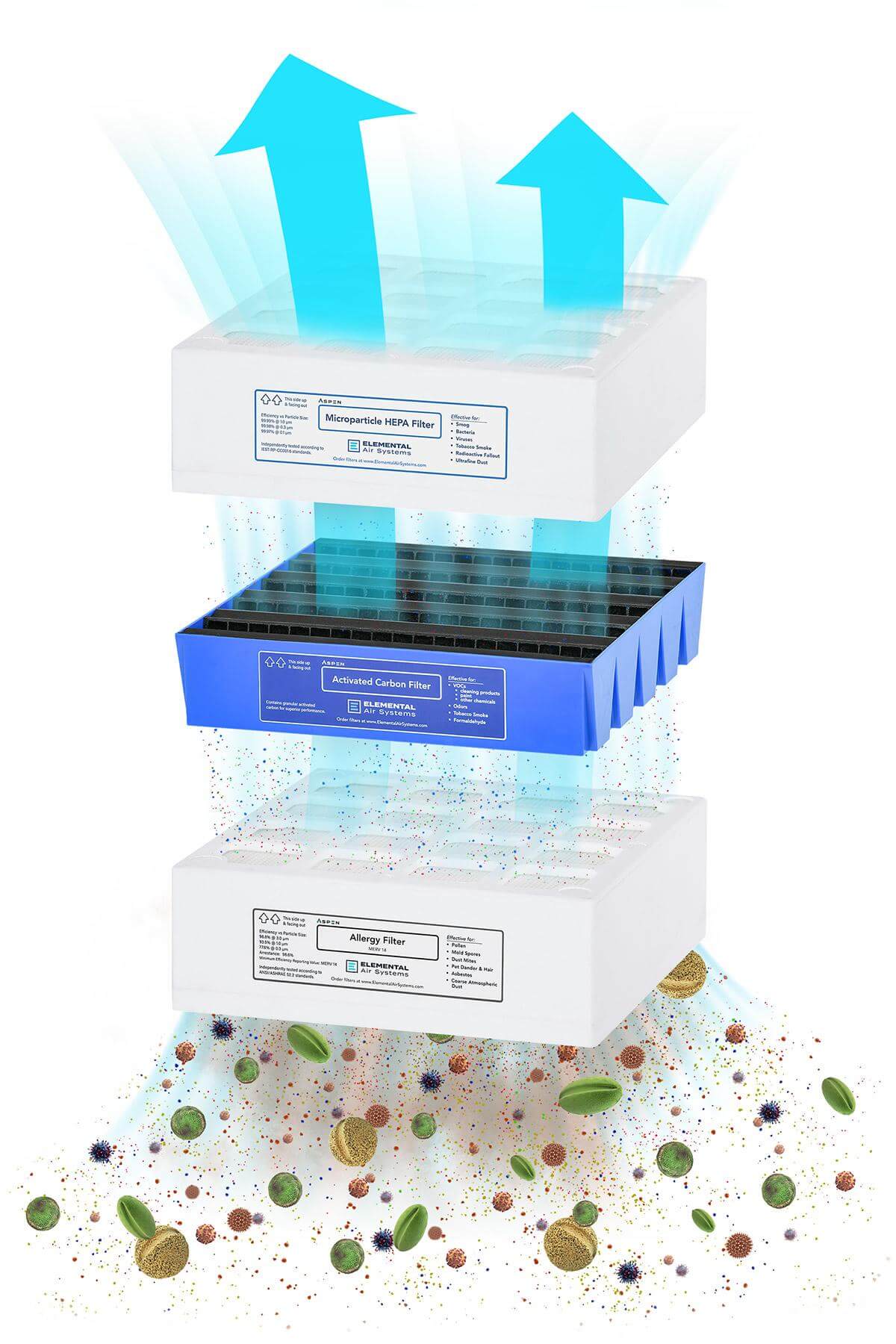 Aspen will positively impact the entire house by using ducts that distribute the air into and out of the room.
Incredibly Effective 3-Stage Air Filtration Process
Aspen's three custom-designed filters allow maximum airflow and filtration 24/7. Each stage of the purification process uses a different filter to remove various pollutants from your air that may differ in size. The rest of the air purifying unit is designed around the filters.
Three Unique Filters for Optimum Air Quality
Allergy Filter: Removes mold, pet dander, pollen, dust mite droppings, asbestos, and more!
Activated Carbon Filter: Removes VOCs (volatile organic compounds), odors, formaldehyde, chemicals, tobacco smoke, and more!
Microparticle HEPA Filter: Removes 99.97% of particles down to 0.1 microns, including smoke, soot, bacteria, smog, viruses, and more!
Remove annoying allergens from your air with the Aspen Air Purifier.
Balancing Efficiency & Safety
Other air purifiers use technology such as UV lights, ionizers, or ozone generators that can be harmful or have adverse effects on your health. Instead, the Aspen Air Purifiers use 100% safe purification methods that are guaranteed not to produce ozone. Our unit keeps your health in mind and is safe to use day and night.
NRD takes efficiency seriously, as it contributes to your home's health and safety. Aspen Air Purifiers are built with EC fan technology and use up to 85% less electricity than your traditional AC fan. The efficiency gains are even more pronounced at lower fan speeds, which are used most frequently. Aspen will save you money on electricity while effectively cleaning your air, making this the gold standard in home air purification. It even pairs beautifully with the SaniDry Sedona, a high-efficiency basement dehumidifier. Together, the Aspen and SaniDry drastically improve indoor air quality for an overall healthier home.
The Aspen Air Purifier is simple to use and includes easy-to-change filters that slide out like dresser drawers. Its portability and easy maintenance make it a convenient option for use anywhere in your home, easily covering up to 1,500 square feet. The HEPA filter enhances air purification with intense allergen removal covering 40 square feet.
No more runny noses and itchy eyes with the Aspen!
Achieve exceptional indoor air quality with your trusted NRD dealer!
Breathe easy with the Aspen Air Purifier. Get in touch with us to learn more about how we can help you achieve the healthiest air for your family!
Inventor Tanner Janesky describes Aspen's journey from start to finish, and his determination to address a broad range of allergens with a compact, efficient, easy-to-install purification system.
Looking for a price? Get a no cost, no obligation free estimate.