Real estate & home radon in Greater Omaha
How home radon can impact real estate transactions
Create a safer and more valuable home by mitigating radon before selling.
When it comes to buying a home or preparing a house for sale, one of the first things a real estate agent should do is test the property's radon levels. Testing for home radon is important, as this radioactive gas is the second-leading cause of lung cancer in the U.S. Regardless of how old a home is, there is always a possibility of hazardous concentrations of radon. Since radon is invisible and odorless, it is undetectable without reliable radon testing.
If there are high levels of home radon, the experts at Radon Defense Midwest can provide reliable mitigation services. As a member of the National Radon Defense network, we provide the absolute best solutions in testing for and reducing high levels of home radon.
Contact us to learn more about radon testing and mitigation during a home sale. We proudly serve Nebraska, Missouri, and Iowa areas throughout Lincoln, Omaha, Sioux City, and nearby.
The foundation & home radon levels
There are the slab-on-grade foundations and then there are the basement or crawl space foundations. All can sustain high radon concentrations and most home levels can be significantly reduced with radon mitigation.
However, some homes are not as easy to mitigate. Those may actually not be receptive to any further mitigation. This is a very important detail that any homeowner may want to know before buying or selling a home.
How does radon gas enter a home?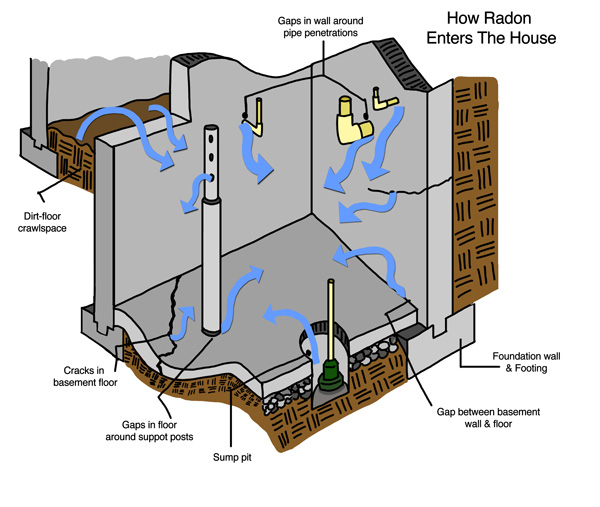 Click the diagram to see how radon enters through the foundation and circulates throughout the home.
The foundation is crucial to understanding why and how radon enters a home. Since radon is the result of uranium decay in soil, it's no wonder the gas can easily enter through a cracking foundation.
Most soils have uranium in them. Once this uranium decays, it produces radium and polonium, which then degrades into radon gas. This gas can easily maneuver through tiny cracks or crevices in the foundation.
Radon is sucked into the foundation through the "stack effect." New, unconditioned air replaces warm air that rises and exits through the roofing. The unconditioned and cooler air is what may contain radon. The difference in pressure between the outdoor and indoor air causes the vacuum-like suction that draws the new, unconditioned air through the foundation.
Once radon enters the home, the gas builds up, especially during the colder months when the windows and doors are tightly closed.
When do you need radon mitigation?
The Environmental Protection Agency (EPA) recommends U.S. homes with levels at 4.0 pCi/L or higher should be mitigated. However, the World Health Organization (WHO) recommends mitigation for European properties at 2.7 pCi/L or higher. So what's the difference?
According to Dr. Maria Neira of the WHO, a majority of home radon-related lung cancer cases are not caused by high levels but longterm exposure to low or medium levels. Experts feel that all levels of radon exposure can be dangerous.
Categorizing home radon levels:
High: 4.0 pCi/L & above
Moderate: 2.0 - 4.0 pCi/L
Low: 2.0 pCi/L & below
Whether the levels are above or below 4.0 pCi/L, Radon Defense Midwest can mitigate and reduce a home's levels to the lowest level. Radon Defense Midwest provides proper maintenance in order to check the home and assure that the mitigation is effective.
Real estate & selling a home
Are you purchasing or selling a home? Schedule a radon test before the transaction is complete to be sure the property is safe.
Any real estate agent should be aware of a home's radon levels before trying to purchase or sell a property. If you are in the process of a real estate transaction, schedule a radon test with Radon Defense Midwest. If there are high concentrations of radon detected, we can mitigate the property to lower, safer levels.
If you're having a home built, radon can still become a problem. Radon is more expensive to repair than to fix from the start. Ask the builder to install a radon-resistant system during the construction.
According to the National Association of Home Builders, one in six homes are being built with a radon-resistant system – this means 200,000 homeowners are taking the initiative to protect their families before their homes are even built.
Schedule a radon test before buying or selling a home
Radon Defense Midwest is your local radon mitigation expert. We can help you understand the levels in your home and provide reliable radon mitigation solutions if needed. Schedule a radon test and a free mitigation estimate to learn more. We serve Nebraska, Missouri, and Iowa homeowners in Elkhorn, Bellevue, Council Bluffs, Gretna, Fremont, Hastings, North Platte, and areas nearby.
Looking for a price? Get a no cost, no obligation free estimate.